Welcome to the mailpile
Community Roadmap
Please login, cast your vote, and help decide the future of Mailpile!
Don't have a login? All you need to do is Donate $23.00 or more per year to support the creation of Mailpile :)
Donated already? Your invitation should arrive at some point in May 2015.
Halló , thanks for being part of our community
---
Prioritize our Roadmap
Our roadmap consists of new features, ideas, and known bugs that we are aware of. Drag items in list to let us know what issues are of the highest priority to you and what you'd like to see fixed the fastest. To propose a new item, please file an issue on Github.
Vote on Decisions
There are decisions we need to make as a company & project. Cast your vote yes or no to decide the outcome of each.
Beta III and the 1.0 Release
The 1.0 roadmap has been decided!
Don't be disappointed if you did not get to vote on this, there was not really much to discuss. We will quite simply be shipping the simplest thing possible that fulfills the basic goals stated in our fundraising campaign.
Here it is, in all it's pointy-haired-boss glory: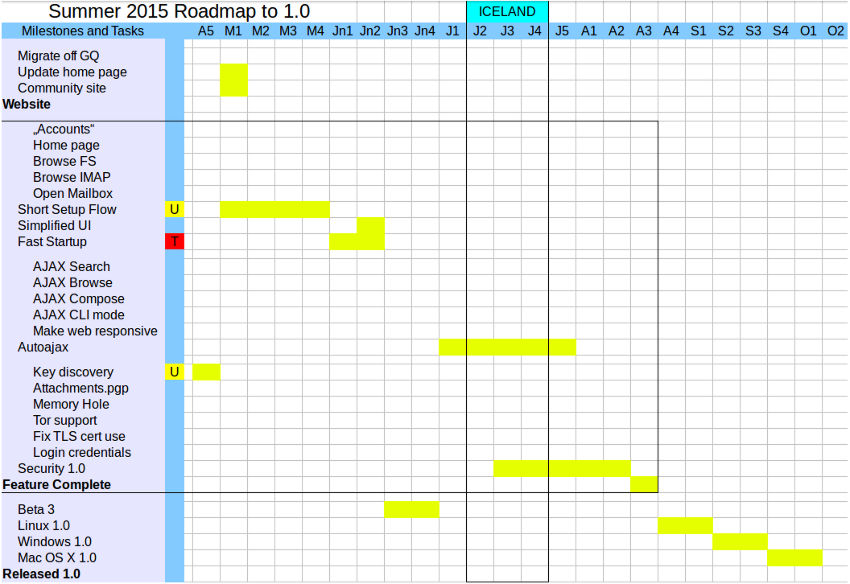 For details about what that chart actually means, check out Bjarni's blog post about the roadmap.
1.0 Release

Tasks

Upgrade to GnuPG 2.1 or later

Mailpile currently relies on GnuPG 1.4. This is a tried and tested implementation of PGP, but it is slowly becoming obsolete. In particular, we need to upgrade to GnuPG 2.1 in order to allow Mailpile users to take advantage of Elliptic Curve Cryptograpy which will be a requirement in order to exchange secure messages with users of Google's End-to-End encrypted e-mail solution.

see details

Post 1.0 Roadmap
Current Decisions
Community Perks
Want to get the most bleeding edge build of Mailpile? Download a daily snapshot to get the newest hotness, but beware of (and) report bugs, takk! Download Daily Snapshots
---